ALEX YELLOWLEES HOT CLUB JAZZ QUARTET
To book Alex Yellowlees Hot Club Jazz Quartet to appear at your event contact ...

e: John Barrow
m: +44(0)7968 13 17 37
Now booking dates for Alex Yellowlees Hot Club Jazz Quartet throughout 2019 and onwards throughout 2020.
Available for jazz clubs, concerts and festivals UK-wide and abroad/world-wide.
See Alex Yellowlees Hot Club Jazz Quartet's gig list and availability here.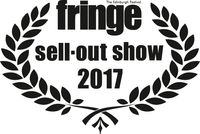 The band plays a live show every year at the Acoustic Music Centre during the Edinburgh Festival Fringe. In August 2017 and 2018 the show was a sell-out for which they received a much-sought after sell-out laurel (pictured) from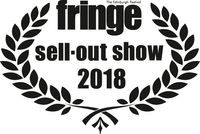 the Fringe organisation representing ticket sales of 95%-plus.
ALEX YELLOWLEES
Scotland's premier jazz violinist has dazzled and entertained audiences throughout Europe with his original realisation of the 'hot club' style. Ever the pioneer, Alex has sculpted his own musical voice over a lifetime of performance and recordings. Drawing from his extensive experience of celtic, blues and jazz genres, you now can hear and share in the sonic marvel that is at the very core of the Alex Yellowlees band.

Says Alex, "Making music has been one of the great joys and journeys of my life; from classical to Celtic to bluegrass and finally into the world of jazz and specifically the gypsy jazz guitar of Django Rheinhart and the electric violin sound of the great French jazz violinist Stephane Grappelli.  I have loved the sound of jazz violin, gypsy jazz guitars and double bass since my father took me to a concert of Stephane Grappelli when I was 12 years old and my journey began.  Combine lovely melodies with improvisational opportunity and I am in heaven! It is my privilege to perform with three wonderful virtuostic musicians and it is always a pleasure sharing the stage with them.
"He is little short of masterful - his tone and phrasing are out of the top drawer" (Scotsman).

"This group wowed the crowd with the dazzling virtuosity of their playing" (Shetland Festival)

"Expect world class for that is what you will get!" (Northern Italy Jazz Festival)

"The most exciting instrumental lineup in years" (Edinburgh International Jazz Festival)