LULO REINHARDT / with THE LATIN SWING PROJECT or with YULIYA LONSKAYA (Belarus)
To book Lulo Reinhardt to appear at your event contact ...

e: JOHN BARROW
m: +44(0)7968 13 17 37
 
---

*** Now booking throughout the UK - Lulo Reinhardt and Yuliya Lonskaya, May 2023.
 
---

Read more here about Lulo Reinhardt.
See DropBox folder Lulo Reinhardt for promotional materials.
---
LULO and YULIYA


"Gypsy meets Classic"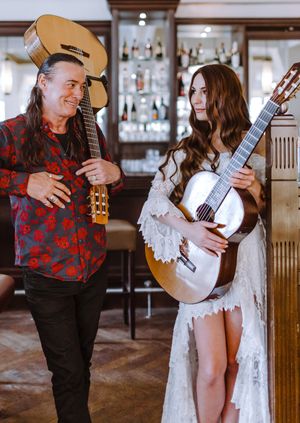 This musical 'pairing' is definitely a cut above! Together, as the saying goes, they make beautiful music.
Two wonderful guitarists well deserving of much interest from theatres, arts centres, festivals and independent promoters.
"Yuliya performs her own fresh and unique style of classic, folk, jazz and bossa nova arrangements distinctively revealing the Russian soul. Her sophistication and elegance as a person and as a musician were deeply impressionable" (Eleonora Bowa – World of Guitar, Culture Information Agency, Russia).
Lulo Reinhardt, from Germany (Koblenz) is the grand nephew of Django Reinhardt and has toured in the UK several times in the past 10 or so years including an appearance at Cork Jazz Festival with his 5-piece band. While Lulo has a repertoire of gypsy swing as you might expect, he has extended his musical horizons beyond that with music from North Africa and India influencing his playing.
Yuliya Lonskaya was born in 1980 in Belarus and began to learn to play guitar in her home town of Mogilev studying at the local music college. Later, she gained a diploma at the Belarus Academy of Music in Minsk and continued her studies with Prof. Andreas von Wangenheim at the Karlsruhe Musik Hochschule. Finally she took masterclasses with such prominent performers as Costas Cotsiolis, David Russell, Carlo Marchione and Abel Carlevaro.
Since then Yuliya has won several international guitar competitions in Poland, England, Serbia and Montenegro. In 2002, in a duo with Russian guitarist, Dimitrii Illarionov, she won the prestigious GFA guitar competition (Guitar Foundation of America). In 2006, she made her debut in the Tchaikovsky Concert Hall in Moscow as soloist with the Symphonic Orchestra Novaya Rossiya.
With her eclectic repertoire of folk, jazz, bossa nova, Baroque and Romantic music as well as classical, Yuliya is a very welcome performer in many European and American concert halls playing solo concerts and as a soloist with orchestras.
See Yuliya in action in these videos ...
https://www.veojam.com/watch/1286039340
https://www.youtube.com/watch?v=cLPHmAsFo7U
(This video shows Lulo and Yuliya performing together.)
https://www.youtube.com/watch?v=3adlKku9YSs
https://www.youtube.com/watch?v=_TF0V0257I0