CORONAVIRUS UPDATE
Dateline: Wednesday 23 February 2022
Planning is continuing as usual for the performers listed below. Tours in 2020 were rescheduled to dates in 2021 and then moved into 2022 or 2023.
If there are any questions arising or offers of work please either call
John Barrow on +44(0)7968 13 17 37 or email jb@stoneyport.uk
How can this page be improved?
---
"musical medicine" (The Scotsman)
Dates: Now booking UK-wide and Ireland throughout 2022 and 2023
Expressions of interest and offers of work welcomed for this remarkable young singer and songwriter from Edinburgh.
Contact John Barrow or call +44(0)7968 131737
See Adam's agency webpage (inc. gig diary) HERE.
---
---
Dates moved from 2021 ...
Now touring UK and Ireland from late January (ca Mon 23) to mid-February (ca Sun 12) 2023 ... all dates currently available.

Contact John Barrow or call +44(0)7968 131737
---
---
from GERMANY ... ANDRE KRENGEL (solo)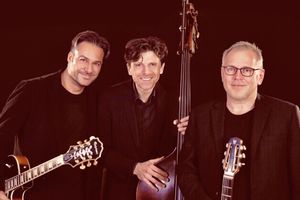 and ANDRE KRENGEL'S ACOUSTIC EMBASSY
Andre Krengel (guitar; L) :: Konstantin Weinstroer (bass) :: Lutz Sclosser (guitar)
Now booking UK-wide and Ireland for dates in September-December 2022.
Also, now booking for 2023.
Expressions of interest and offers of work welcomed for these remarkable and amazingly talented performers.
Contact John Barrow or call +44(0)7968 131737
ANDRE KRENGEL


Andre Krengel
was self-taught from age 14 years. However, by his late teens and early 20's he was learning to play jazz in the Netherlands while teaching and working in local bands to earn a living. He soon started touring, first to Southern France and Spain then onwards to the Far East and North America learning, learning and continually learning more as he travelled through myriad venues and line-ups. The result of this application and sheer hard work can be seen now today ... a versatile and virtuoso guitar player with a unique style, who has become one of the foremost players in Germany.
Andre's virtuosity and versatility, together with his great sense of musical dynamics allied to a lightness of touch led the German press to dub him "the guitar wizard with magic hands".
Andre has played gigs in ... Austria, Belgium, Bulgaria, Canada, Croatia, Czech Republic, France, Germany, Greece, India, Italy, Latvia, Luxemburg, Madeira, The Maldives, Malta, Moldova, Netherlands, Poland, Portugal, Slovakia, Spain, Sweden, Switzerland, Tenerife, Turkey, UK (England, Scotland, Ireland), Ukraine and USA (phew - that's some itinerary!!).
Once you have heard him play, you will never forget about it (Marc Heinersdorff – Steinway Germany)
ANDRE KRENGEL ACOUSTIC EMBASSY


The Andre Krengel Acoustic Embassy, ​​created by the internationally touring guitarist and composer, Andre Krengel, presents a diverse concert programme with a lovely, charming naturalness and the sheer joy of playing great music.
Employing musical genres ranging from Latino through Django Reinhardt's swing, to pop, jazz and flamenco,  Acoustic Embassy create a passionate and melodic mixture.  For example, B. Sting's "Another shape of my heart" is up-graded to a driving tango flamenco; or, another example, virtuoso, thrillingly fast swing style displace Depeche Mode's "Enjoy the Silence", with floating acoustic guitars and tenderly bowed bass.
Andre Krengel includes his own compositions that are at times lyrically quiet, melancholic or humorous and fast-paced. These ambassadors of acoustics even plunder the zeitgeist of sampled music and monotonous techno in their own creative way. With a 'hand-made' imitation of electronic effects, they convert a techno/trance hit, like Robert Miles' "Children", into a completely different 'mode' with an intense atmosphere.
SEPTEMBER-DECEMBER 2022
ALL DATES AVAILABLE.
JANUARY-DECEMBER 2023
ALL DATES AVAILABLE.
---
ALAN REID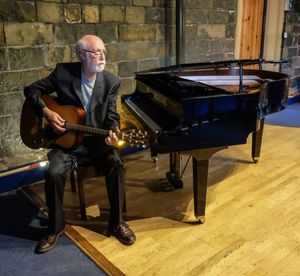 Now booking dates through 2022 and 2023
Offers of gigs welcomed from the UK, Ireland and abroad.
Contact Alan Reid
m: +44(0)7918 128336
---
---
Now booking dates UK-wide and in Ireland for 2022 and 2023.
Go here to see Allan's website for his UK dates in which Stoneyport is not involved and for his dates abroad.

Contact John Barrow or call +44(0)7968 131737
---
---