Folk-singer ... and a lot more besides ...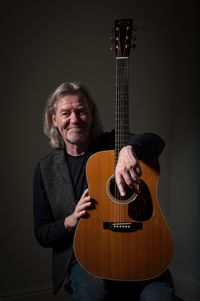 Jed Grimes' track record as an innovator in the field of roots and folk music dates from his early days in the much loved 70s folk-rock band Hedgehog Pie. Since then he has earned Nominations at the BBC Radio Two Folk Awards for his arrangements for the Northumbria Anthology, and his 6-piece folk/jazz/rock outfit The Hush, featuring Bob Fox: he has released three widely acclaimed solo CD albums, and continues to tour the festivals, folk/roots clubs and arts centres of UK and Europe, where his powerful vocal style and rich, often flamboyant guitar style, allied to a ready Geordie wit, excite and entertain audiences numbering from 50 to 25,000 with equal flair. 
Typical of many a 1960s teenager, Jed got a cheap plywood guitar tried to play the wonderful riffs from Johnny B Goode. He gave up but discovered en route, Muddy Waters, Bob Dylan and The Beatles. Fortune then smiled again as Jed made further musical discoveries nearer home on Tyneside, helping to reveal his own family roots along the way, via the Irish songs, jigs and reels reverberating from the family home of the late John Doonan and his sons Kevin and Mick.  Jed soon joined with the Doonan boys and Phil Murray in Hedgehog Pie appearing on three successful albums through the 1970s and at every festival and major venue in the UK, including The Albert Hall!
Various activities through the 1980s and 1990s saw Jed on local radio with his own folk music show, leading a cajun/soul band (Dust on The Needle), playing sessions on BBC Radio 2's Paul Jones Blues Show and forming the Pacamax, which featured various Lindisfarne personnel.
Came the millennium, and a slight change of direction saw Jed assume production and arranger duties with The Northumbria Anthology. This led to the formation of The Hush - a very notable band with Bob Fox on lead vocals. The Hush played Cambridge, Cropredy and a number of other prime festivals, recorded one album 'Dark To The Sky' gained a couple of BBC Radio 2 Folk Award nominations, then quit while they were ahead.
Following the success of The Hush, Jed brough together his first solo CD, Head On. Here, Jed was able to indulge successfully in complex, innovative arrangements of traditional and self-penned songs drawing massive critical acclaim, multiple plays on BBC Radio 2. Once again Jed came to the notice of the bookers and audiences on the UK festival and club scene but this time as a soloist. Heart & Hand followed seven years later - another hit with reviewers leaing to a gig-packed 2013 and 2014 on the road at festivals and clubs from Aberdeen to Cornwall.
2016 saw Jed's next CD release - North Face - and a return to the source for Jed. All acoustic, layered guitar, bozouki and lap steel supporting Jed's signature vocal style on songs from Ireland, Northumberland and Appalachia. Plus a guest appearance on uillean pipes, flute and whistle by Jed's old Hedgehog Pie band-mate, Mick Doonan, squaring another musical circle in our troubadour's long and illustrious career as an innovator, arranger and performer of traditional song and dance music from UK, Ireland and various points east and west of there!
Where next we hear you cry? ... Offer Jed a gig at your event and you'll find the same on-stage charm, ability to happily chat to and entertain the audience plus the characteristic vocal style typifying Jed Grime's continued presence on the British folk scene. 
"Superlative, intricate string virtuosity ... aural magic!" (Fatea-Records.co.uk)
See more here - http://www.jedgrimesmusic.co.uk
To book Jed Grimes for your event contact John Barrow at Stoneyport Associates.
e: jb@stoneyport.uk
m: +44(0)7968 131737