Welcome to the Stoneyport Associates webpage for PHAMIE GOW "musician :: composer :: recording artist :: singer"
To book Phamie Gow for your event please contact …
JOHN BARROW
jb@stoneyport.uk
m: +44(0)7968 131737
Go HERE to Phamie's website for press quotes and her blog featuring some of her adventures as an internationally recognised musician.
WHAT THEY SAID …
Original, rhythmical, melodic, funky and exciting are words used to describe her performances on the harp. Forget about your preconceptions about the harp being for fairies! In her hands she is pushing forward the frontiers of this ancient instrument and is changing peoples' perceptions about this instrument. Gone is theball gown for this new inventive harpist.
Celtic Sprite: Influential Musicians
Enter this contemporary virtuoso who takes your breath away with her skill and charm, who is so at one with her instrument that audiences are transfixed, visually as well as audibly.
Celtic Sprite: Influential Musicians
In Gow's capable hands, her electrified harp easily shifts between heavy metal and ethereal celestial music.
The Globe and Mail. Canada
… a GENIUS composer …
Peter Seivewright, international concert pianist.
… a star of the highest order …
Nigel Gayler, Bournemouth Symphony Orchestra
Played with great skill and expressive musicality... laced with emotion, lyricism and an underlying sense of peace.
Scotland on Sunday
An extraordinary gifted composer and player. Many of her haunting evocative pieces sound like glorious traditional airs that have somehow remain hidden until now.
Australian Broadcasting Corporation (ABC): The Planet
PHAMIE GOW is a composer, performer and recording artist who has made an impression on the music scene of today. She received her first commission as a composer at the age of 16 and since then has composed for short films, animation, theatre and TV productions in the UK and abroad.
Phamie performed her commission Lammermuir (written when she was 19) with the Royal Scottish National Orchestra (RSNO) and her composition Balmoral was performed by The Household Division for The Queen's Platinum Jubilee celebrations as part of the show, A Military Musical Spectacular, at the Horse Guards Parade in Whitehall, London. Her work was also played by The Royal Scot's Dragoon Guards at the world-famous Royal Military Tattoo in Edinburgh.
Phamie has performed on many international stages, including New York City's Carnegie Hall, and is featured on over 20 recordings. She has also produced and released 10 solo albums of her own compositions, reaching over 11 million streams on digital platforms as a self-published artist.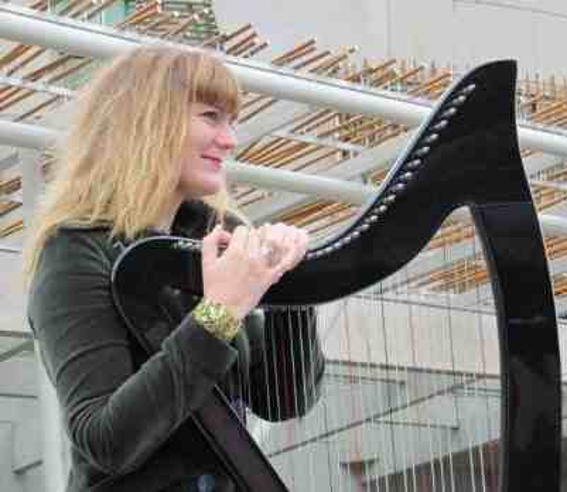 While being recognised as one of the most innovative harpists on the planet, Phamie's truly groundbreaking piano compositions have created a new wave of classical crossover music. She was voted into The Classic FM Hall of Fame (2021) and her piano composition War Song has been featured on the best selling Classic FM compilation albums.
Phamie has collaborated other musicians including Philip Glass, Ashley MacIsaac, Carlos Nuñez, Alan Stivell, LMO orchestra, McOpera String Quartet, Band of Horses ... and many more. She continues to revolutionise her Classical Crossover 'sound' musical signature and is the Number One played artist in Caffe Nero throughout the UK and abroad for over two consecutive years.
Phamie continues composing, collaborating and recording and is looking forward to touring the UK and abroad again throughout 2023 and beyond. 
PHAMIE VIDEOS
Below is a small sample of videos of Phamie in action.
The first, War Song, has had, so far, 340 k views!