Dateline: Tuesday 1 March 2022
---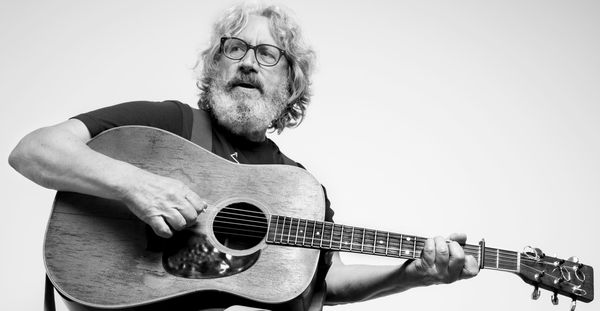 Go HERE (website of American Songwriter magazine published in Nashville) for an interesting and recent interview with Jim.
---
WHAT THEY SAID

Every now and again I encounter a singer who gives me a glimmer of hope. Jim Page carries the light.
CHRISTY MOORE

Jim Page's music is the kind of great theater that makes you sit on the edge of your seat. One of my favorite writers and performers...always on the money, and always amazing.
CAROLINE AIKEN

Jim Page is a lyrical genius with a guitar. This man personifies the word 'free-flow.' Page takes to the mic and the song invents itself on the spot; his talent is a natural wonder.
GAVIN

Jim's been writing great topical songs for as long as I can remember, bringing his acute wit and wry humor to a host of subjects that can really use both. In the tradition of Woody and Dylan, he cuts right to the heart with music you actually enjoy listening to. I'm a longtime admirer.
BONNIE RAITT

Searing, compassionate lyrics, with an always rightfully placed ironic or humorous note; Jim Page's words, like his music, are for both the mind and soul. He urges us to live our lives to their fullest, and, reassures those who do.
WINONA LADUKE

Many songwriters have been an influence, but somehow for me it was out of reach. Jim Page was the one to bring songwriting within my reach. Watching and listening to him make his songs started me thinking about it. Making coherency with words and music, Jim taught me a lesson.
JOHN TRUDELL

Jim Page's songs get right to the point. He looks at the world clearly and reports what he sees with compassion, humor and a biting sense of irony.  And boy! can he sing and play. If you're ever going to get the message, this is the messenger to get it from.
U. UTAH PHILLIPS

The best had to be when that wonderful folksinger Jim Page joined the mainstage outdoor closer Leftover Salmon. He strums a few chords to get them started and then they build the melody up. Jim starts to improvise lyrics...  And all of Leftover Salmon is grinning ear-to-ear. I've seen 1500-plus concerts and that moment was as wonderful a band/audience connection as I've ever witnessed.
DUPREE'S DIAMOND NEWS

If Jim Page ain't the bastard son of Woody Guthrie I'm T-Bone Walker.
ROBERT HUNTER
---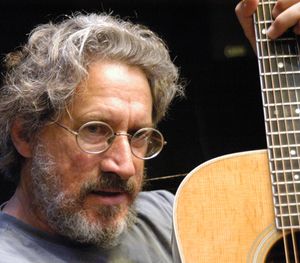 JIM PAGE is an American singer and songwriter living in Seattle, Washington. He's made 24 full length albums, been on a dozen compilations, done numberless tours, and written hundreds of songs. Some of them have been covered by Christy Moore, Dick Gaughan, Roy Bailey, The Doobie Brothers, and Michael Hedges. He's toured with Dick Gaughan, Planxty, Leftover Salmon, and Rob Wasserman. He's shared the stage with Bonnie Raitt, Donal Lunny, Barry Melton, Robert Hunter, and Björn Afzelius.
He sings of politics and romance, adventure and comedy, tragedy, history, and meditations on life, death and the absurd. His improvisations are legendary, and if there's anything to talk about that he hasn't sung about it's just that he was too busy singing about something else.
Jim was born in the lower Bay Area of California, growing into the great renaissance of the 1960s, when all the arts were mixed together, the music, the theatre, the poetry and politics. His home turf was the same place that gave birth to such bands as Jefferson Airplane and the Grateful Dead. The border between the folk song and the rock band was blurred in those days and you can still hear it in his music, in his choice of subject matter, use of imagery, rhythm and phrasing.
His early influences were the country blues singers like Lightnin' Hopkins and Blind Willie McTell, then singer songwriters like Buffy Sainte Marie and the young Bob Dylan. When he was 20 he hitched across country in the wintertime, 3 000 miles to New York City and the fabled Greenwich Village, looking to find his own voice. Living on rooftops, borrowing guitars, playing everywhere he could, he stayed for a year until life took him out west to Seattle where the whole city opened up. Carrying his guitar like a sack of tools he left his mark on every square inch of that town. Every theater, cafe, rock and roll bar, and sidewalk street corner was a stage, until a cop came by to shut him down. But he wouldn't shut so easy. So in 1974 he sang to the City Council that street music should be free and legal and they should overturn an old backward law against it ... and they did!
Jim made his first record in '75, another in '76, hit the Cambridge Folk Festival in the UK in '77 and began almost continuous touring. His song HIROSHIMA-NAGASAKI RUSSIAN ROULETTE was recorded by the great Irish band MOVING HEARTS, entered the charts at number one and stayed there. Uncountable radio and TV appearances in Ireland, UK, Germany, Sweden, Denmark, Belgium, you name it. Touring Scandinavia with Björn Afzelius, playing playing guitar on Björn's record while Björn sang on Jim's. Working with three record labels in US, Sweden, and Ireland. Eventually life took over again and he went back to Seattle to cool his heels and hunker down into writing, building ensembles, and staying in one place. A folk trio with Tommy Hayes and Orville Johnson, an original rock and roll band, and a busking association with the legendary Artis the Spoonman. All the while maintaining a solo presence and career.
Mixing sounds and ideas like back in the old California days, the attitudes and the themes. Organic associations with jazz players, rock players, country, blues and folk. They fold around Jim's songs to create soundscapes. His most recent project, THE TIME IS NOW, is the most solid and ambitious to date. The song writing is top notch, the music and performance too.
After all these years Jim Page is still at the top of his game.
---