Chloe Matharu is a singer, songwriter and Celtic harpist living a stone's throw from the sea in Wemyss Bay on Scotland's Clyde Coast opposite Rothesay. With self-penned songs drawing on her ocean-going experience as a navigational officer in the Merchant Navy sailing around the world on oil tankers, Chloe's thoughtful and sensitive song-writing offers an insight into the wide world of the life of modern seafarers.
Chloe's voice and her harp create a haunting and memorable combination perfectly suited to the reflective nature of her songs. Slated for release in September 2022 Chloe's new album, Small Voyages, is available to pre-order HERE.
Dates available throughout 2022 and onwards into 2023.
To book Chloe to appear at your event ...
Contact John Barrow or call +44(0)7968131737
See Chloe's website HERE.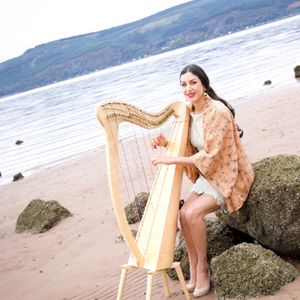 Chloe's Diary
MAY 2022
Sat 28   Fishguard Festival
JUNE 2022
Sat 18   Haverfordwest, Unearthed Festival
AUGUST 2022
Fri 19   Edinburgh Fringe, Acoustic Music Centre
SEPTEMBER 2022
Sat 10   Bristol, Redcatch
Sat 17   Pembroke Dock, Cwtch Café
OCTOBER 2022
Mon 17   London, Green Note
Sun 23   Glasgow, Glad Café
NOVEMBER 2022
Sat 26   Dundee, Wighton Heritage Centre
---
Chloe Matharu's song-writing talent affords a refreshing outlook on to maritime folk music. Her lyrics and melodies will resonate with you long after her performance. Of Scottish, Welsh and Punjabi heritage Chloe sings in both English and Welsh. With past sell-out shows on the Edinburgh Fringe, in 2021 she has enjoyed playing a varied line-up of venues from Scotland to London via Wales - Glasgow's Glad Café, Greenock's Beacon Arts Centre, the McIntosh Club in Helensburgh, Cwtch Café Pembrokeshire and London's Green Note to name a few.
She also frequently performs at corporate events and most recently played a series of gigs at COP26 in Glasgow to high profile clientele.
In 2022 Chloe is looking forward to a busy gig itinerary including Edinburgh Festival Fringe in August and Fringe by the Sea in North Berwick also in August. She played the renowned Danny Kyle Open Stage at Glasgow's Celtic Connections Festival in January 2022 and has been shortlisted for the 2022 English Folk Expo in mid-October.
Chloe's new album, Small Voyages, is slated for release in September 2022 and features her self-penned songs, harp arrangements and field recordings of the natural environment. The release will be followed by the afore-mentioned UK-wide tour
"Voice of milk and honey"  Anais Mitchel
"Voice with the purity of a folk classic" Herald
"Talented beyond her years" Bella Hardy
---