INTERNATIONAL GUITAR NIGHT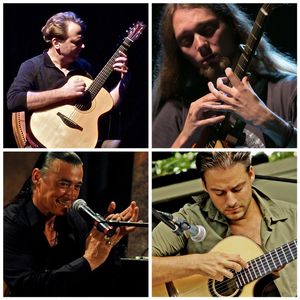 To book the International Guitar Night to appear at your event contact ...

e: Dr JOHN BARROW
m: +44(0)7968 13 17 37
 
---
Read more here about International Guitar Night
And see DropBox folder IGN2015 for promo items
 
---
Dateline: Monday 2 November 2015

IGN's autumn 2015 UK tour has now ended
Dates have yet to be decided for the next UK tour - but most probably in spring 2017
 
---
Around 2000 IGN founder, Californian Brian Gore, decided to create an annual tour featuring three or four world-class guitarists.  Since then the annually changing show has become a popular item in the North American touring calendar and has toured the UK annually since 2007.
INTERNATIONAL GUITAR NIGHT 2015 UK TOUR features ...
ANDRE KRENGEL (GER) has developed a unique style of playing becoming a leading guitar player in Germany.  The German press call him "the traveller between cultures" and "the guitar wizard with magic hands".

BRIAN GORE (USA) ...No longer 'emerging', Brian has become a member of the community of guitar masters with whom he has toured.
"Brian writes songs, not 'tunes', fully developed stories told with six steel strings and a passion rarely seen instrumentally or lyrically" (KKUP Radio).

LULO REINHARDT (GER), great-nephew of jazz legend Django Reinhardt, is one of the foremost instrumental voices in modern Gypsy music. 
"One thing is certain: Lulo is a fantastic musician, worthy of the Reinhardt name" ( ***** London Evening Standard).

MIKE DAWES (ENG) has renowned international musicians including Steve Vai, Gotye and James Valentine (Maroon 5) praising his prowess.  To quote the Maroon 5 guitarist, "What's going on? It's beautiful!".  "He's among the very best in the world. He's exceptional" (Justin Hayward / Moody Blues).

The show features solos, duets, trios and ensemble pieces.
 
---

Read more here about International Guitar Night
And see DropBox folder IGN2015 for promo items
 
---